The Path of the Gods
the most famous hike you can do in Sorrento area
info
Distance : 7.5km
Elevation gain : 400m↓400m↑
Details: Nocelle ‐ Nocelle
Difficulty:  E  (expert)
Path type: mule tracks, paths on stone and dirt paths
Meeting Point: Tasso Square (Sorrento)
(we start from Nocelle and back to Nocelle, so, more walking, less car!
  )
Among the "high" routes  of the Amalfi coast, this hike moves from Nocelle to "Colle Serra" (and back) and is by far the most famous hike you can do. The reason for this fame (which is recognized all over the world) is the constant ups and downs, the fantastic sheer vertical drops and lands cultivated in terraces.  You arrive at the final destination and the highlight of this hike, Punta Campanella, which is  united, under the sea, to the stunning island of Capri. From the spectacular belvedere looking  to the west we see siren archipelagos and swirling shapes. There is much to explain here regarding the colours of the Mediterranean lands, known as our "Path of the Gods".
Botany: mediterranean scrub, heather, euphorbia, true myrtle, orchids in spring,..
Fauna: birds of prey (kestrel, peregrine falcon, buzzard, raven, sea gull,..) migratory and sedentary birds and insects, butterflies , reptiles (lizards, harmless snakes).
Natural landscape interests: view on the whole peninsola, view on Capri and Amalfi coast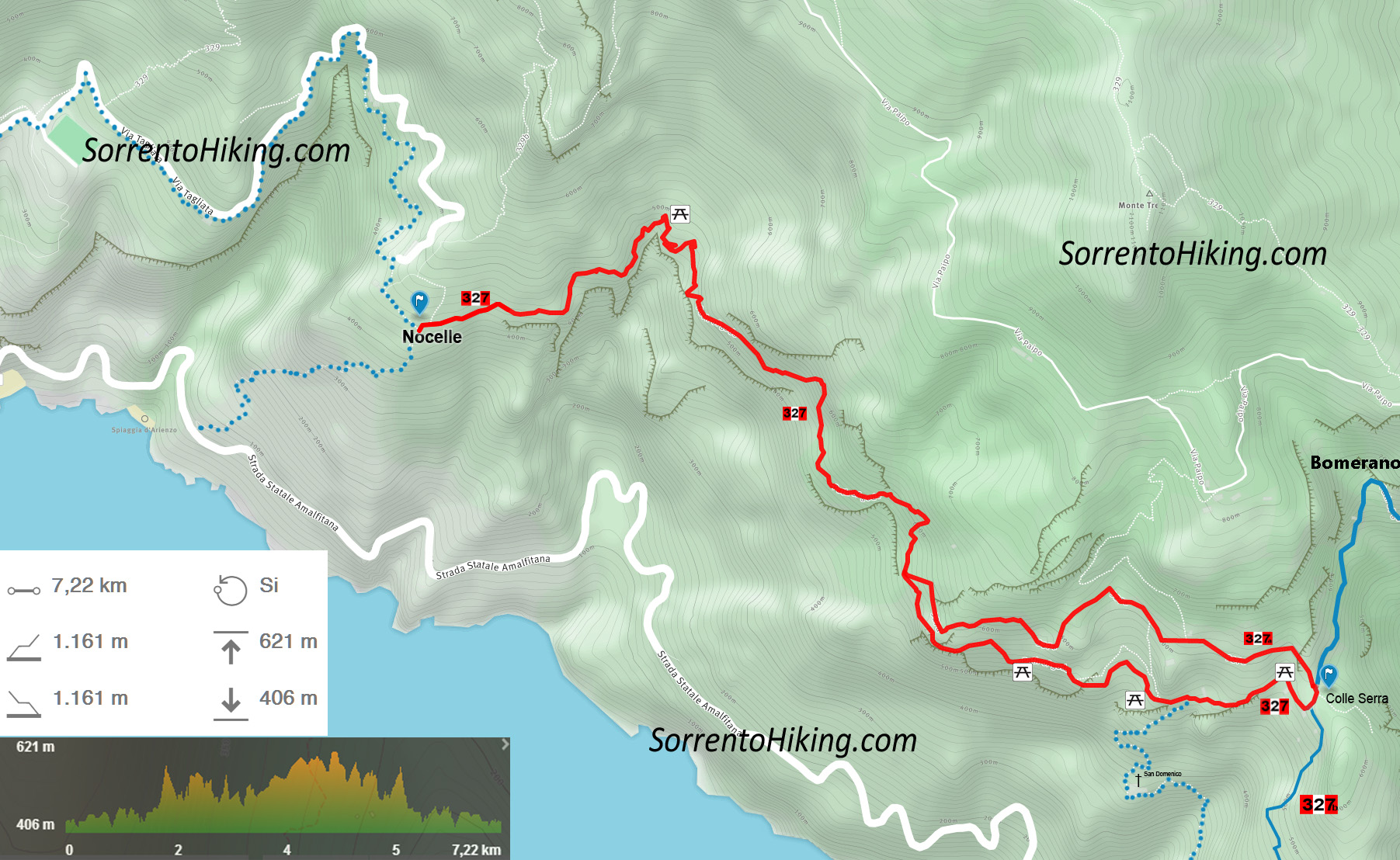 "Unknown to most tourists, wonderful networks of footpaths criss-cross the Peninsula and Capri, connecting little villages by easy paths and venturing on rougher ways up into the mountains. Visitors can plan simple walks of varying lengths often starting right outside their villa, allowing them to enjoy fantastic views whilst getting a feel for authentic Italy. The friendly local people you come across on foot could be pruning their vines, picking lemons or carrying supplies by mule to a remote house, a million miles from the tourist guide or souvenir vendor you meet in town. Experienced hikers can stretch their legs on stony trails high up in the mountains, guided by the red/white marks painted by the local Alpine Club (CAI), followed by a cool beer in a village bar at the end of the day." "Along the Amalfi coast the terrain is very steep, the bonus being spectacular views around every corner, but with the effect that paths are often built as stone steps. It helps to take your time to avoid getting out of breath or maybe take a bus to a higher starting point and walk mainly downhill. Mind you, going down a lot of steps can be hard on the knees too. If you are at all worried by this warning, just start with modest plans to get a feel for how the paths play out for you; judging by my fan mail few people are much bothered. At the Sorrento end of the peninsula you'll meet fewer steps as the terrain is mostly more forgiving there."
Julian Tippett